Exercising the privilege and power of prayer in an instant connection with God remains our highest privilege and honor as humans. Whether its Noah's search in the face of God for grace, Abram's scan of the starry night searching for an heir, Jacob's dream of angels ascending and descending the ladder to heaven or wrestling with a powerful being until daybreak – we can likely relate to intimate times with God. Perhaps like Ruth seeking a Redeemer, or Esther seeking favor of the King, or Rahab's concern for the Salvation of her family, or Mary's quiet "May it be as you say, Lord," we can relate to people seeking answers from beyond this reality from a God who holds us in His care.
Dakota Prayer Ministries hosts a weekly Zoom prayer meeting called Dakotans Pray. Join conference prayer ministries coordinator, Pastor Barry St. Clair, every Thursday at 7:00pm central by clicking here or following the link listed below.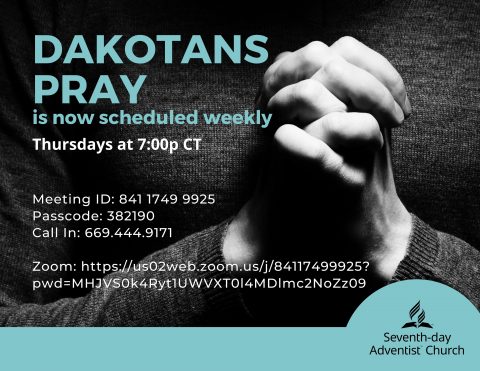 To participate in the monthly prayer emphasis, click on the "Prayer Ministries Calendar" link to the right under "Related Information".
For those interested in participating in the email prayer request chain, please send an email to: dakota.prayerministries@gmail.com