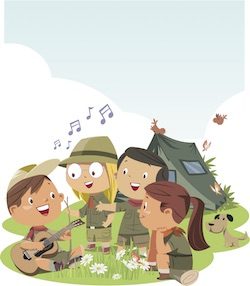 Dakota Conference is blessed to have two camps, Northern Lights Camp  in North Dakota located close to the  Canadian border on Lake Metigoshe and Flag Mountain Camp located in the beautiful Black Hill of South Dakota. Camping season starts in June at Flag Mountain Camp with Junior Camp followed by Teen Extreme Camp. At Northern Lights Camp the options are Junior Camp, Teen Camp and Family Camp. Due to the diversity of the venues, i.e. horsemanship and blacksmithing, mountain biking, and rock climbing at FMC and numerous water activities at NLC, some campers choose to go to both camps during the summer.
Northern Lights Camp Kitchen Project:
Thank you for your continued support of the Northern Lights Camp kitchen project. Funds are in hand to complete the kitchen enough to provide a camping program for the 2019 summer season. The Dakota constituency has been very generous, which each camper/family/church will appreciate.